---
Wildlife Conservation in Sri Lanka
The theme of wildlife conservation has been an ancient concept in Sri Lanka. It was considered noble in keeping with the teachings of Gouthama Buddha and later essential to the Island.
"...... ordering by beat of drum that no animals should be killed within a radius of seven gau from the city (Anuradhapura) the King gave security to animals. He gave security also to the fish in the twelve great tanks and bestowing on Kambodin-gold and cloth and whatever other kind of wealth they wished, he commanded them not to catch birds and so gave security to birds."

Royal decree of King Kirthi Nissanka Malla of Polonnaruwa (2nd Century AD)
Stone inscription at Ruwanveli Dagaba, Anuradhapura.
Sri Lanka, because of her diverse physical environmental and tropical situation, harbours rich biological diversity of global significance far larger in proportion to her size. While her cultural traditions have always enshrined the concern for all life, the Island has nearly fourteen per cent of her land area earmarked for the conservation of biodiversity and wildlife. Of the fourteen per cent, twelve per cent are Protected Areas under the Department of Wildlife Conservation. This stands out in comparison with most other countries in South Asia Region.
Sri Lanka's Wildlife Conservation

See list below for statistics on the numbered locations.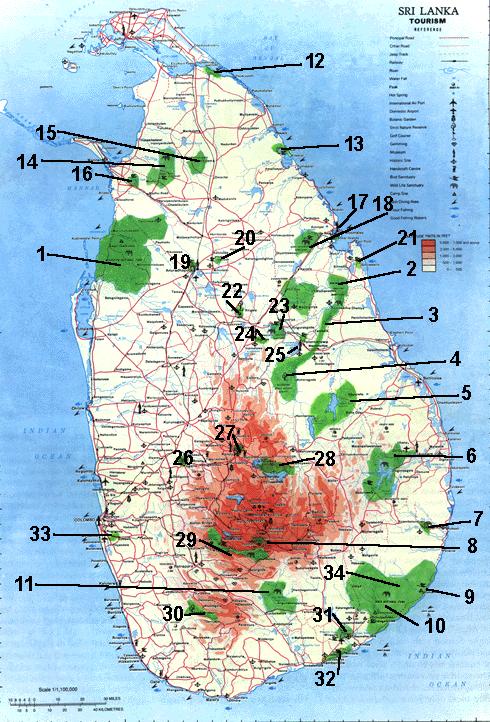 Protected Areas of Sri Lanka
Protected areas shown on the map
National Parks

Map #
Name of Protected Area
Land Area in Hectares
Established

1

Wilpattu National Park
131,693.9
02.25.1938

2

Somawathiya Chaitiya National Park
37,762.2
09.02.1986

3

Floodplains National Park
17,350.4
08.07.1984

4

Wasgomuwa National Park
36,948.0
08.07.1984

5

Maduru Oya National Park
58,849.8
11.09.1983

6

Gal Oya National Park
25,900.0
02.12.1954

7

Lahugala Kitulana National Park
1,554.0
10.31.1980

8

Horton Plains National Parks
3,159.8
03.16.1988

9

Kumana (Yala East) National Park
18,148.2
01.02.1970

10

Yala (Ruhuna) National Park
103,882.9
02.25.1938

11

Uda Walawe National Park
30,821.0
06.30.1972

Sanctuaries and Reserves

12

Chundikullam Sanctuary
11,149.5
02.25.1938

13

Kokilai Sanctuary
The whole lagoon
05.18.1951

14

Madhu Sanctuary
26,677.0
06.28.1968

15

Padaviya Sanctuary
6,475.0
06.21.1963

16

Yoda Weva Sanctuary
4,330.3
09.24.1954

17

Sober Islands Sanctuary
71.0
06.21.1963

18

Naval Headworks Sanctuary
18,130.0
06.21.1963

19

Anuradhapura Sanctuary
3,500.7
05.27.1938

20

Mihintale Sanctuary
999.6
05.27.1938

21

Seruwavila Sanctuary
15,540.0
10.09.1970

22

Ritigala Strict Nature Reserve
1,528.1
11.07.1941

23

Minneriya-Giritale Sanctuary
7,529.1
02.12.1988

24

Sigiriya Sanctuary
5,099.2
01.26.1990

25

Polonnaruwa Sanctuary
1,521.7
05.27.1938

26

Kegalle Kurulu-Kelle Sanctuary
113.3
03.14.1941

27

Kandy Uda-Watte Kelle Sanctuary
104.0
07.29.1938

28

Victoria-Randenigala-Rantambe Sanctuary
42,088.8
01.30.1987

29

Peak Wilderness (Samanala) Sanctuary
22,379.9
10.25.1940

30

Sinharaja Rainforest Sanctuary*

31

Wirawila-Tissa Sanctuary
4,164.4
05.27.1938

32

Bundala Sanctuary
6,216.0
12.05.1969

33

Bellanvila-Attidiya Sanctuary
372.0
07.25.1990

34

Yala Strict Nature Reserve
28,905.7
03.01.1938

Other Protected Areas not shown on the map

35

Hakkgala Strict Nature Reserve
1,141.6
02.25.1938

36

Tricona-Madu
25,019.4
10.24.1986

37

Wilpattu North
632.0
11.07.1947

38

Thel-Watte
1,424.5
02.25.1938

39

Katagamuwa
1,003.7
05.27.1938

40

Gallways Land
56.7
05.27.1938

41

Thanga-Malley
131.5
05.27.1938

42

Rocky Islands (Ambalangoda)
1.2
10.25.1940

43

Kataragama
837.7
05.27.1938

44

Palle-Malala
13.8
10.23.1942

45

Wel-Hella Katagilla
134.4
02.18.1949

46

Senanayake Samudra
2,324.0
02.12.1954

47

Gal-Oya East
12,432.0
02.12.1954

48

Gal-Oya South East
15,281.0
02.12.1954

49

Vauwni-Kulam
4,856.3
06.21.1963

50

Sagamam
616.5
06.21.1963

51

Padawiya Tank
6,475.0
06.21.1963

52

Kimbulwana Oya
492.1
06.21.1963

53

Maha Kandarawa Tank
400 yards around the tank
12.09.1966

54

Seruwila-Allai
15,540.0
10.09.1970

55

Ma Indul Kande-Nittambuwa
23.5
10.31.1972

56

Paraithivu Island
97.1
05.18.1973

57

Kudumbi-Gala
4,403.0
09.28.1973

58

Horagolla.
13.4
10.05.1973

59

Honduwa Island
8.5
11.19.1973

60

Bundangala
1,841.4
11.01.1974

61

Pigeon Island
4.6
11.01.1974

62

Ravana-Ella
1,932.0
05.18.1979

63

Hikkaduwa Coral Reef
44.5
05.18.1979

64

Sri Jayawardene Pura
449.2
01.09.1985

65

Kahala-Palle Kelle
21,690.0
07.11.1989

66

Parapuduwa Meheni Island
189.6
08.17.1988

67

Kalametiya Lagoon
712.3
06.28.1984
---
NEW COUNTER INSTALLED SINCE 4 AUGUST 2001