The area identified as the South closely resembles that of the ancient Ruhuna - the centre of a flourishing civilization.. It comprises the Southern Province, a large part of the Uva Province and small parts of the Sabaragamuwa & Eastern Provinces. It covers 44 DS Divisions.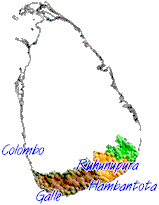 The region of Ruhuna was in ancient times the centre of a flourishing civilization. The cultural and economic centres of ancient Sri Lanka, Magama, Tissamaharama and Mahanagakula were established here.
The Physical and human resources in the south show a wide diversity since the region covers a whole cross section of land forms, agro-ecological zones, soil groups and human settlements. Although the region falls into all three major climatic zones - wet, intermediate and dry - more than half of it is in the dry zone, which constitutes the most deprived area of the region, the 'South East Dry Zone'.
A vast potential for the development is provided by the outstanding diversity of the physical and human resources in the South, much of which has yet to be fully utilised.
The biggest potential of the South, however, is the highly educated and enterprising human resource.
The Kingdom of Ruhuna was founded by Prince Mahanaga, after a personal dispute with his brother, King Devanampiyatissa of Anuradhapura, about 200 B.C.

This region played a vital role in building the nation as well in the establishment of Buddhist culture.
The Variety of natural resources is created by a complex geology of both the Highland & Vijayan series, undulating topography, three major climatic zones, nine agro-ecological zones, five great soil groups, 30 river basins, a 300 km long coastal belt with a series of bays and lagoons, and many species of natural flora and fauna. Utilisation of the physical resources by the inhabitants has been carried on for a long time - the fertile lands of Ruhuna provided sustenance for the people of the Kingdom of Anuradhapura when they faced famine and invasion in between first and fifth centuries A. D. A wide variety of crops has been and still is produced in Ruhuna. Whaat is now needed is to produced them in the quantity and quality the market demands and to process them so that the value added benefits become available to the local inhabitants.