STATUES & SCULPTURES
---
Images of Sri Lanka........
The Meditating Buddha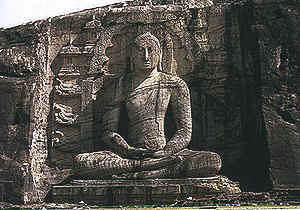 A statue of the Lord Buddha in an ancient city of Sri Lanka. These invaluable treasures can still be seen in cities like Sigiriya, Anuradhapura, Polonnaruwa, Dambulla and Mihintale within 150 miles from Colombo the capital of Sri Lan
---
Aukana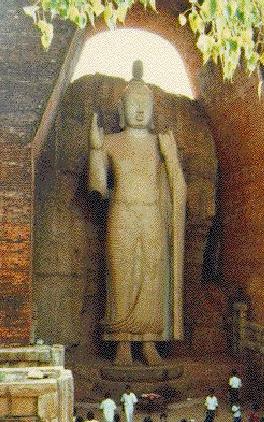 This 5th century statue ascribed to King Dhatusena is 42.5 feet (13 m) high and is situated 32 miles (51 km) southeast of Anuradhapura.

Aukana means sun eating. It stands beneath a recently constructed brick shelter, a replica of the enclosure said to have contained it 1000 years ago. The statue is best viewed when the sun rises.

A replica of the Aukana statue stands opposite the BMICH in Colombo on Bauddhaloka Mawatha. A smaller replica is found at the Paramananda Purana Viharaya in Kotahena.

---
Buduruwagala rock sculptures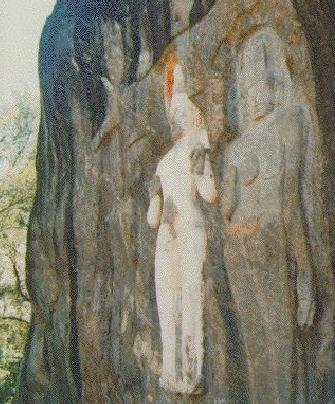 The seven colossal figures sculpted into a rock face are generally dated to the 9th or the 10th century. The central figure of the group is the Buddha, standing 51 feet (15.5 m) and is the largest standing Buddha in Sri Lanka. He is attended on either side by two Bhodisattvas, each 40 feet (12 m) in height. Each of them in turn has two attendants.

The figure on the Buddha's right is believed to be Avalokitesvara. The one on the left is believed to be either Maitreya, the future Buddha, or Vajrapani, a Tantric Bhodisattva.The picture shows a section of the rock face with the Buddha and Avalokitesvara sculptures.

Because Sri Lanka is considered the cradle of Theravada Buddhism, comparatively little has been chronicled on Mahayana history in the island, despite its influence from time to time. Therefore the Buduruwagala figures are a source of controversy.



---
Maligawila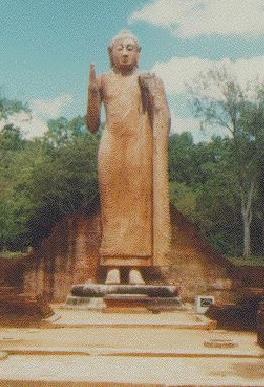 Fifteen miles south of Moneragala is Maligawila, one of the Ruhuna's most remarkable ruins. A great falken Buddha, 34 feet (10.5 m) high and 10 feet (3 m) across the souhlders, was carved completely from a single stone and then transported and raised here on a lotus pedestal.

The statue dates back to the early 7th century and is tentatively identified with an enormous monastic establishment called the Ariyakari Vihara.

---
Statues from Dambulla Caves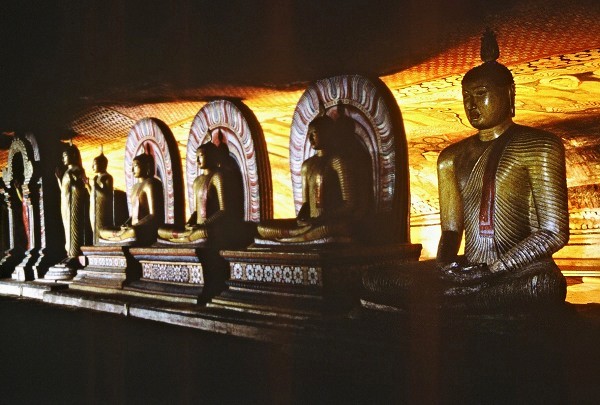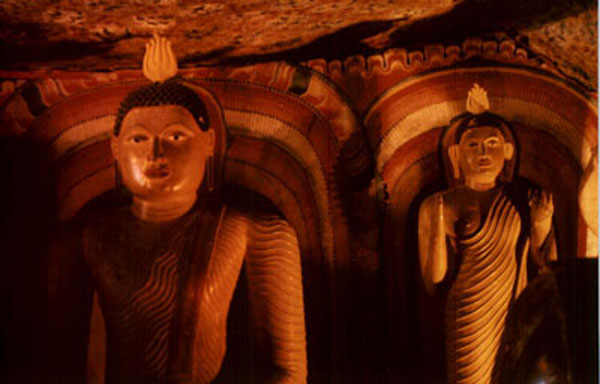 Dambulla is a vast isolated rock mass and it was here that King Valagam Bahu took refuge in the 1st century B.C. He later turned the caves into a rock temple. Some of the frescoes are over 2,000 years old and there is a colossal figure of the recumbent Buddha carved out of the living rock, some 14 metre long
---
For more pictures........
NEW COUNTER INSTALLED SINCE 1 AUGUST 2001